About BlogHer12, the Irrefutable Influence of Bloggers and Baby Boomers
1 September 2012
7 Comments
By Anne-Marie Kovacs, Chief Wife
If you are not a blogger, you may not know about this annual conference called BlogHer. As the name implies, it is a conference aimed at women bloggers. The first conference occurred in 2005 and now, a mere 8 conferences later, the number of attendees has topped 5000. My guesstimate  is that 93% of them are women and the remaining  7% of men are daddy-bloggers or corporate-type attendees. But, that's just my guess. Most of the women are "young" women. And by young, I mean mid-thirties. At 49, that seems really young to me.
The conference was remarkable not just for the sheer size of its attendance, but also for the status of its keynotes speakers. Indeed, BlogHer12 reeled in Martha Stewart (on her birthday no less), Katie Couric and… President Obama, a surprise addition to the program, who addressed our audience through a live 15 minute video conference. Why would President Obama, and ok, Katie and Martha, want to give bloggers the light of day? Well, I believe the answer is in what's now my favorite statement: "Bloggers are the new media darlings". There is no denying it, bloggers are now increasingly important players in the marketing mix. Because they know how to influence. They know how to make product move.
There's also no denying that baby boomers are making a case for themselves, and will no longer tolerate being ignored by brands and advertising agencies that only care to cater to the 18 to 49 demographic. There are 78 million of us boomers, you think we'll just be ignored and not speak up? Pfttt… Case in point, last year was my first BlogHer conference and we witnessed the stirrings of  the conference's readiness to listen to the needs of the "older" blogger. Blogher responded. Mildly, but it did. This year, midlifers had their very own session called "Blogging into Midlife" (more details about that on fellow blogger's Judi Boomergirl's post). And, there were even some brands who paid attention to us baby boomers too. Poise hit the nail on the head.  They had a booth in the exhibitors hall and also hosted The Poise Comedy Cellar, an evening of improv cabaret (performed by an all woman ensemble). It was fun, funny and for once, us midlife bloggers felt like we were being treated with the respect we deserve.  And, all the while, we gained an instant affinity for the Poise brand through the humor it projected, an approach that gives us the courage to talk about an embarrassing subject. Well done @Poise!
Besides the educational sessions, BlogHer is known for the extraordinary amount of swag that is distributed by all the exhibitors and… it's known for its parties. Most parties are "classics" that were born in the first days of BlogHer with such themes as SparkleCorn and CheeseburgHer. As fun as these parties may sound, they are not necessarily the middle aged woman's idea of a good time. Not this woman's idea anyway. Anyhoo, all that to say that since there have not been any events catering to the baby boomer crowd during the BlogHer conference in the past, The Succulent Wife teamed up with BOOMbox Network to create one of our own. Indeed we held an age-appropriate event named the B(L)oomers Party™ (#BloomersParty). The theme was "Beauty and Wisdom" featuring the powerful work of Robbie Kaye which focuses on capturing older women on film and the  grace and courage they demonstrate in a society so heavily focused on the beauty of youth. We were celebrating aging, finding the true beauty in its many stages and appreciating the wisdom acquired through the years.
The vision for an event catering to the 45+ blogger was to create a party that offered networking opportunities with people "our own age", plenty of seating, music that you can comfortably speak over, oh, and a chance to be introduced to relevant, interesting brands that actually wanted to speak and market their product to someone over the age of 45.
So that's what we set out to do, and I think that we got as close to accomplishing our mission as we possibly could. Here's a short video – produced by one of our awesome sponsors, StoryMix Media – that captures well the energy of the evening: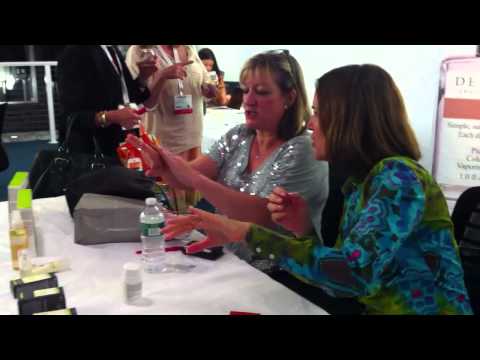 Among some of the great brands that sponsored the event (view the full list of sponsors here) :
It turns out that these fantastic sponsor brands were thrilled to have mature, interested and interesting women as an audience. I say "it turns out" because we are working under the (well-documented) premise that most consumer brands are – still – not quite interested in marketing to anyone over the age of 50. Actually, make that 40. This seems odd to the baby boomer generation given all the stats being thrown around that demonstrate that we are the single most affluent consumer group out there.
The irony is in the dichotomy of how our society views "older" folks. This could be seen right there on the BlogHer12 conference floor: On one hand, we revere the "elder" (the keynote speakers were of the baby boomer generation or older) for what they have achieved and how they have paved the way for new voices and behaviors in our culture but then, they aren't deemed "sexy" enough to be marketed to?
Still, there are some great brands that "get it", like our event sponsors that reached out to our influencers, the very people who are ready to spend their money with brands that know how that "talk" to them. As a result, these brands now have dozens of midlife bloggers excited about their products. Who knows what can happy next!
The stars were certainly aligned the night of our event as it went off without a hitch! Happy guests and happy sponsors. What more can we ask for! THANKS to all that participated, guests and sponsors, and to the owners of our fabulous event venue, OffSiteNYC!